TLDR
Discord is launching its very own App Directory! List your apps on the directory so that users can discover and install your app without ever having to leave the Discord platform.
Joining the App Directory
Let's jump right into how to add your app to the App Directory.
Verifying your Application
The first step of the process is to get your app verified. If you need any help with how to do that, please head over to this article to get started!
Setting up your App Profile
After your app is verified, you will see a new section within your Developer Portal called "App Directory."
You must first fill out the fields within the "Product Page" section. The Product Page section lists all required items to build out your App's Profile Page.
If you would like an in-depth description of what the Product Page requires and how it affects your app's public Profile Page on the App Directory, please take a look at this article.
Enable Discovery
Once you have completed filling in your app's profile page you will be able to Enable Discovery for your app using the "Discovery Status" tab shown below.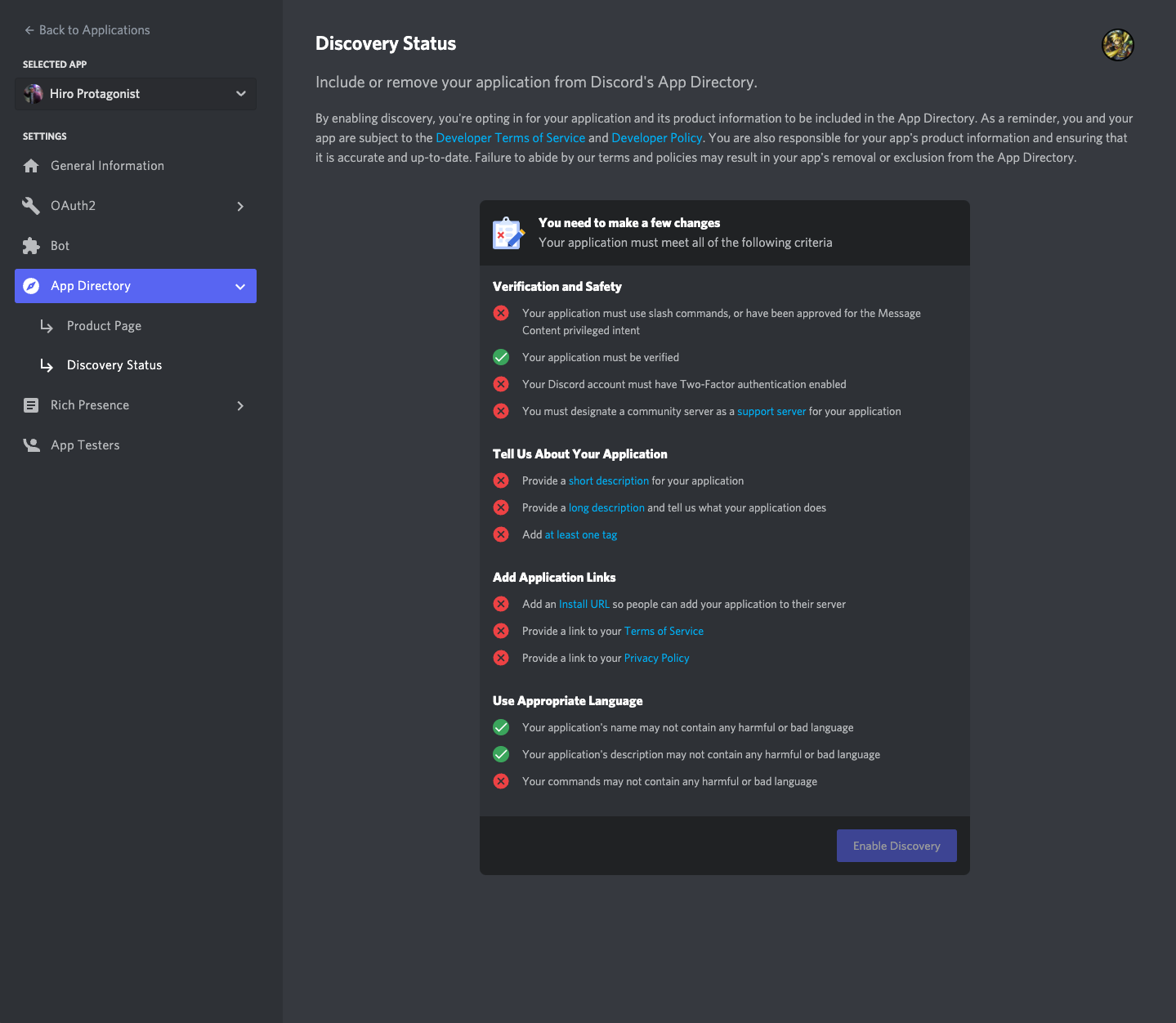 This will show you if your Product Page has any issues, as well as helpful error messages to assist you in troubleshooting those. If you've got all green checkmarks across the board (and you're complying with our Developer Terms of Service, Developer Policy, and content requirements), click the Enable Discovery Button in the bottom right to enable your app to be included in the App Directory!
What Does the App Directory Offer Developers
The App Directory is the place to grow your app and offers developers:
More active users of your app
A customizable profile page to show off your app in your own way
A way to display your hard work to friends, communities, or even recruiters
Not only will users be able to find your app without having to leave Discord, but the App Directory will also help you spend less time and effort to promoting your app. Once your app is the App Directory, just sit back and watch your server count grow.
Help us celebrate our developers by joining the App Directory!